Sweet Seeds – Super Offer at The Vault Cannabis Seeds Store
May 20, 2020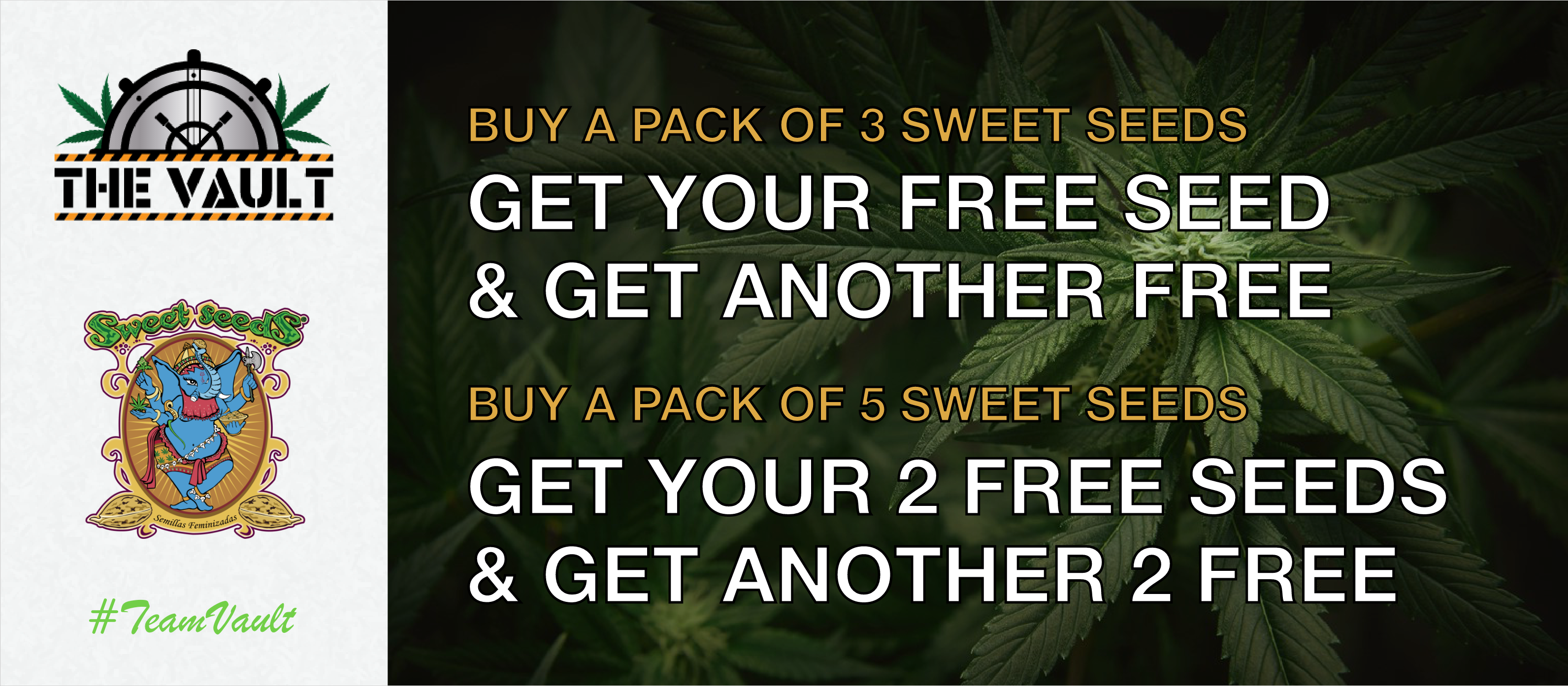 Sweet Seeds already have promo packs on sale at The Vault Cannabis Seeds Store, here is the summary:
Buy any 3 pack from Sweet Seeds and get 1 free seed
Buy any 5 pack from Sweet Seeds and get 2 free seeds
Please note these free seeds will NOT show in your cart summary as they are special packs of 3 + 1 and 5 + 2
You can read further details on this here. if this wasn't already sweet enough for you they have added even more freebies on top!
As well as the above you now get another FREE seed with every 3 pack of Sweet Seeds purchased and another 2 FREE seeds with every 5 pack of Sweet Seeds purchased!
So now you will get:
3 + 1 in pack and another + 1 added to the cart so buy 3 get 5!
5 + 2 in pack and another 2 added to the cart so buy 5 get 9!

This is of course on top of all our other cannabis seed offers.
The free seeds to be added will be matched fem for fem and auto for auto. Here are the 3 strains that will be added as freebies: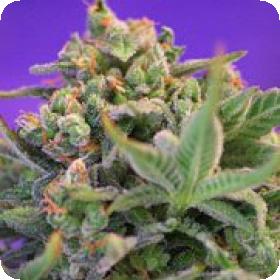 Sweet Cheese Feminised by Sweet Seeds is a hybrid of Cheese and Black Jack, two very popular and well known strains. Black Jack is a plant with very high THC production, because of this it is very popular as a medical strain. High THC levels means that the strain can work as a painkiller, or a way of lessening the symptoms of anxiety and depression, without causing the user to lose energy or focus. Cheese on the other hand is a light, fruity, strain that also has an extremely high THC content. It was originally bred in the UK and is widely considered to be one of the best strains available on the market.
Sweet Cheese grows long central buds which are also surrounded by a good number of side buds. It is high in productivity and has an amazing flavour which is reminiscent of a mature cheese with a slightly spicy edge. Its effect is one of long lasting periods of relaxation and euphoria.
Sweet Cheese is 30% Indica and 70% Sativa, its indoor yield is 400 – 600 g/m2 and its outdoor yield is 350 – 550 g/plant. Its flowering time is just 9 weeks and it should be harvested, if grown outdoors, in the middle of October.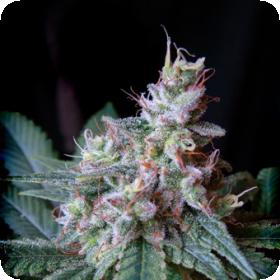 This synthetic strain is the result of a three way cross between our best indicas: Blue Black x Maple Leaf Indica x White Rhino. Famous in the world cannabic scene, this is the most awarded strain of the Sweet Seeds catalog.
The tastes and aromas of this variety are very intense, sweet and caramelized like sweets, fruit of the indica molotov cocktail that contains in itself, combined with a hint of earthy flavors inherited from the Blue genetic involved in the cross. This strain is ideal for indoor growing and a super plant for outdoor growing.
Its structure is typical of indica plants, featuring a strong main stem with short internodal distance, with a big main bud and multiple side branches.
This strain is the favorite among our THC-rich strains for medicinal cannabis users. Relaxing and antidepressant.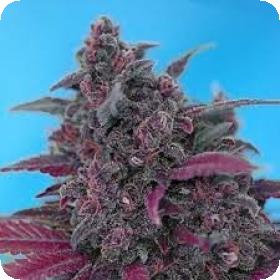 Dark Devil Auto Feminised Seeds
This strain is comprised of a 100% Autoflowering crossing of one of Sweet Seeds best received autoflowering genetics, Big Devil XL, and an exotic autoflowering strain that produces purple flowers. The purple phenotype is taken from its roots close to Afghanistan, in the Chitral region in the Pakistani Hindu Kush.
As is typical of many of Sweet Seeds' strains, Dark Devil has a great amount of vigor from the get-go. As with the majority of Indica-Sativa hybrids, this strain presents with a robust central stem and an abundance of side branches, with a big main cola and numerous smaller buds on the side branches. The flowers and their surrounding leaves show an outstanding level of resin production, with a sweet, fruity fragrance and some more spicy undertones, with lemony hues to it. About 80% of the plants' buds will usually some purple or reddish tones to them, with some of this also transferring to the leaves. It is said the after harvest the dried buds become a very dark purple, almost black, colour, hence the name given to the strain.
This seed has an expected flowering period of around 8 ½ weeks and will grow to a height between 80-130 cm. The expected yield for outdoor growth is around 50-200 grams per plant. For indoor growth this is approximately 400-600 grams per square meter.
This brand has an impressive array of different strains and seed types, supplying something for even the most discerning of customers.
Bonus: Get 15% off all Sweet Seeds at The Vault Cannabis Seeds Store using discount code Sweet15 in the cart!
Let us know about your experiences with Sweet Seeds and their strains in the comments section below.
Newsletter Sign Up
Make sure you never miss another Vault promo – sign up for our newsletter at https://www.cannabis-seeds-store.co.uk/the-vault-newsletter
Remember: It is illegal to germinate cannabis seeds in many countries including the UK. It is our duty to inform you of this fact and to urge you to obey all of your local laws to the letter. The Vault only ever sells or sends out seeds for souvenir, collection or novelty purposes.