Cheech and Chong Dispensaries are Coming! Tommy Chong Talks Trump, Religion, and Weed
July 3, 2020
Cheech and Chong Dispensaries are Coming! Tommy Chong Comes Clean on Trump, Weed, and Religion
Curt Dalton:
Hey, Tommy, how are you?
Tommy Chong:
Hey, can you hear me?
Curt Dalton:
I can hear you now. Yep. Are you okay?
Tommy Chong:
I'm good, man.
Curt Dalton:
You look great. How are you?
Tommy Chong:
How are you? I'm fine, I couldn't be better.
Curt Dalton:
So I know you got a busy schedule and I know you have some big news to share with Cannabis.net. So tell me, finally, you're going to be out there in the dispensary world. Give us the intel.
Tommy Chong:
Well, it's a dream come true all these years, way back, I think we were the first day even think about having our own place. Finally, it's Cheech and Chong, it's not just Tommy Chong, it's not just Cheech. It's Cheech and Chong Dispensaries, how about that?
Curt Dalton:
That's the best. How does Cheech feel about it?
Tommy Chong:
Tell you the truth. I don't know. I haven't really talked to him about it.
Curt Dalton:
You're like, "I never even asked him. I don't know."
Tommy Chong:
Because of this lockdown, we're supposed to have for dinner, was it, day before yesterday, but he didn't want to go to a restaurant. No, but he's feeling really good about it. He's always wanted to do a shops. The whole thing is to get it going and then you sell it for billions of dollars.
Curt Dalton:
I hear you. Where will the first one open and where can people go into this Cheech and Chong branded dispensary, give us the opening dates and location.
Tommy Chong:
Okay. Paris? Paris, what's the opening date and where is the location?
Paris:
We're in the process of looking for them right now, they're identifying properties and licenses at the moment.
Tommy Chong:
Yeah, right now we're looking for the property and the licenses at the moment, because what we're going to do, we're going to come in and take over the ones that are available and then we're going to start creating our own. But right now we want to get them off the ground. We're right now in the process of doing it. But right now, what we're looking to do now is just get some select group of investors. Because it's public, we're offering stock and it's going to be great, man. It's going to be wonderful. I think it'll be in the most logical spots, California, Nevada. That's what I'm thinking about, New York, Boston, the big players.
Curt Dalton:
So are you going to do a reg A or are you looking for investors? How much are you looking to raise? Maybe we can help you out.
Tommy Chong:
Well, I don't know exactly the financial thing. I got a lot of billionaire friends, and I think, in fact, any one of them could carry the load themselves. More than anything, it's a celebrity thing, hook up with Chong, because that's how I got my billionaire friends, because I'm famous, I can get into any restaurant, with just my name and these billionaires, they can afford to… But they still make me pay for half the tab.
Curt Dalton:
Well, that's a bad side, because I tell everybody you're billionaire friend. so if you're looking for billionaire friends, we're all in trouble. Hey, Tommy, I had a couple of questions. Last time we talked about a year ago, I asked you if it was a little bit bittersweet, being part of Cheech and Chong and the counterculture that created this cannabis movement, yet the new stoner culture, if that even is the word, the new cannabis culture says, "We respect Tommy and what he did, but we're not Cheech and Chong stoners, that doesn't describe us. We're active. We get a job. We do things." Do you still feel the same way that all publicity is good publicity? Or is it a little bittersweet to hear the compliment on one side, but then hear them say, "We're not Cheech and Chong, that's not what we're about."
Tommy Chong:
Well, I know, the people that said it, I think the MedMen was one of them. Right now they're in chapter 11 almost, so that's what happens when you go against Cheech and Chong.
Curt Dalton:
You should just be Cheech and Chong, you would've been successful.
Tommy Chong:
Well look at this. Look at this. We're going to go probably buy their stores.
Curt Dalton:
I got ya. I lost your video. Oh, there you go. You're back.
Tommy Chong:
You know what I'm saying?
Curt Dalton:
Yeah. So I think you might be moving into some of those prime locations, like you talked about.
Tommy Chong:
That's what I'm saying. That's what I'm saying. So we're going to say, "Yeah, I respect your opinion, but excuse me, get out of the way."
Curt Dalton:
Your tag line with Cheech should be, "Maybe you do want to be like Cheech and Chong." That should be your tagline.
Tommy Chong:
Yeah. Well Cheech and Chong aren't Cheech and Chong anymore.
Curt Dalton:
That's true.
Tommy Chong:
Cheech and Chong, I mean, look at me, I'm in living in the Palisades in a palatial estate and Cheech has got two homes, one in Palm Springs, one in… So we're not the two guys living in a crash pad.
Curt Dalton:
What happened to born at East LA? I mean, that was [crosstalk 00:05:27].
Tommy Chong:
That's what I'm saying. That's what I am saying. You know what we're doing? We're hanging with billionaires that were born in East LA.
Curt Dalton:
Gotcha. [inaudible 00:05:37] right. Let me ask you, we had another thing, we did an article about your Twitter feed and how political it is and how passionate you are and the readers wanted to know for sure, do you write all your tweets? Do you have a service or are you just free form? Is that all you?
Tommy Chong:
The Twitter's all me, Twitter all me. The Facebook, I have people run that, post that, but no, the Twitter's all me. I'm like Trump, I'm addicted to Twitter.
Curt Dalton:
You are. You are pretty much the anti-Trump. You are his nemesis on Twitter, I would say. Absolutely.
Tommy Chong:
Absolutely. But I'm like Trump and you know what? I think I know Trump better than Trump, because I was in jail. I was in prison with Trumps, I grew up with Trumps. So I grew up with hustlers. That's why in Canada, all my friends… but you know what I had? I had an after hours nightclub. So all the gangsters, all the con men would come down. I've known the Trumps all my life. And I know one thing about them, because when he was running for president, he never wanted to win. He just wanted to campaign. He just wanted to do a venue where you get thousands of people adoring him and clapping and yelling, chanting.
Tommy Chong:
He never wanted to lock up Hillary ever, but he just wanted to incite the mob. You get addicted to that kind of power, the power of the personality. When he actually won… because he tried to lose. People don't believe that, but he was trying to lose, instead it backfired on him, because everybody said, "Well, at least he's honest." You know what I mean. [crosstalk 00:07:37]. "At least he's honest. Look at Hilary, she's faking it, blah, blah, blah." They couldn't understand that he was telling the truth. He is that sex maniac. He is that con man. He is that theft.
Curt Dalton:
Unfortunately, he's not a big fan of cannabis. So what's your feeling on legalization federally? Give me Tommy Chong's estimate or guess?
Tommy Chong:
You know what? The cannabis is like an avalanche coming down the mountain, the legalization. You either get out of the way or you're going to get run over, there's no basis whatsoever to make that plant illegal. None, none. I mean, Sandra Guppta when he showed that little baby, a year old baby being cured of epilepsy so that it can hug its mother for the first time since it was born by using the cannabis products, that was the end of it. That's the end of it. You can't do the racial card. You can't do the "It leads to heavier drug." It takes you off heavier drugs. It's a miracle drug.
Tommy Chong:
So the legalization, all we need now really, and they better hurry up and do it is the banks. They better start accepting it. If they don't, we're going to start our own banking system. We can do that. We have the power to do that. We can bypass the banks if it comes down to that. But people that want to make money, they're going to jump on the legalization, as soon as we get a decent, what do you call it? Administration in power, then we're fine.
Curt Dalton:
I was going to say, you're pretty connected to the Democratic party. Can you get Joe Biden to come around on cannabis?
Tommy Chong:
Oh yeah. Yeah. Well, it's not about Joe. Hey, shut up. It's not about Joe Biden. It never was about Joe Biden. Joe Biden is the guy that they put in front of the microphone to sooth the country, to tell them everything's okay, everything's fine. To do everything that Trump's not doing. Then we got experts to do everything that Trump's trying to do and messing up. There's messing up, see Obama, when you get Biden, you get Obama. You get all the brain power, the trust, in the world because nobody wants to this pandemic to keep going. They want to stop it. They don't want to be at war, but as long as you got this nutcase… The thing is, he doesn't even have ambition to do anything. He just wants to get in front of a lot of people and have them chant his name. That's all.
Tommy Chong:
I think too, truthfully, that once we get a decent administration in power, Trump will be fine. He'll have his audience, he'll have his people. He'll be in jail, but he'll still be popular. He'll go down. He'll be what he wanted to be, but he won't be in power, see, that's the whole thing. Well, like George W., he was a horrible president. He made the worst choices with the hurricane… it's been so long, I forgot what it's called.
Curt Dalton:
Katrina.
Tommy Chong:
Katrina, see, he didn't know how to do it, but he knew how to hire people to do it. Right away, he got rid of Brownie and he got the other guy, the black guy from New Orleans. So that's what we need. See the country, America is like a big boat, and Trump took over. He wanted to steer it and he doesn't know how to steer it. He doesn't know how it works. He doesn't know how to back it up. He doesn't know how to stop it. He doesn't know how to do anything. He just wants the publicity. He's a comic basically. Most comics, like myself, the reason we're comics is that we got the gift of gab and little else.
Curt Dalton:
Let me ask, I know Chong's choice is the premium brand of cannabis out there. But when the camera's off and you want to reach for something, what do you enjoy for a cannabis product? Is it an edible? Do you smoke? What's your top two things that you reach for if it's up to you?
Tommy Chong:
I've got a Tommy Chong stripped, breath strip that it's got something like 10 to 15 milligrams of THC. I'll do that. I got a spray that has a mixture of THC and CBD, I'll do that. When I do my cameos, I got fans that want to smoke up with me, I'll do a one hitter with a bong or with a pipe, whatever I got there. I got one pipe that Kravitz, this friend of mine gave me, it's a one hander. You can light it and smoke out of it. But I'm a one hitter. That goes back to my earliest days. When I first started smoking weed, a jazz musician named Raymond [Ma 00:13:21] came to Calgary where I was living and he gave me a Lenny Bruce record and a marijuana cigarette at the same time.
Tommy Chong:
Well, I didn't know if I was ever going to get another joint and I wasn't too sure about the effects. So I took one hit and put it out and that joint lasted me a month, but that's the way I am now. I get one hit and that's all I need. It's so funny because I'll do one hit, then I'll forget that I had the one hit. Then I'm walking around the house and I'm thinking, "Oh, I'm starting to feel weird. Oh, I hope I'm not coming down with a virus." Then I go, "Oh, oh, oh, I smoked up, that's right. Well, that's what it is." No, I'm a one hitter.
Curt Dalton:
You've survived multi bouts with cancer and have you've given cannabis a lot of credit. Can you talk a little bit about what you think cannabis did as you fought cancer, all those bouts?
Tommy Chong:
Well, what happens when you treat anything with cannabis, the cannabis goes right to the brain. The brain controls the immune system. Now the immune system won't work properly if you're anxious or afraid. Because what happens with the body when you're anxious or worried or in a fight or flight, and you're in danger, the body goes into fight or flight mode. So what happens, it diverts the blood flow to the muscles so that you can run or so you can get out of there, you can fight, you can do everything.
Tommy Chong:
When you're on cannabis, cannabis relaxes the whole body. So the blood flow goes to the brain and that's what's needed. That's where you need the nutrients. That's where you need the stimulus, because the brain controls the immune system. Once the brain is relaxed and the body's relaxed, the immune system kicks in and it takes care of all the problems that you have.
Tommy Chong:
So that's why being anxious or being frightened or being worried, anything like that… Now, I'll tell you another way to relax the body, this is very important too, because with cannabis… Oh, this is the greatest thing. I'm a great student of the Bible, of the spiritual world. I've been studying it all my life since I was eight years old, even younger. That was the only entertainment I had when I was a kid was Sunday school. And so the stories really stuck in my head, but I wasn't never really one or the other. I was never a Christian or a Catholic or believed in anything. I believed in everything. So I was recently, maybe a couple of years ago, yeah, about a couple of years ago, I realized that you can shortcut your religious experience real easy. Like a lot of monks and religious people, they'll pray for hours. They'll meditate for hours. They have to go in seclusion. They have to wear certain clothes. They have to do all that stuff.
Tommy Chong:
Well, I found out from reading the Bible that you don't have to do any of that. All you have to do is think of God, change your thought, your negative thought, and the easiest way to do that, and the quickest way, is to think of God. Now you don't have to do any more than that, but just change your thought. Now, the minute you do that, you activate the God app in your soul, because that's who you are. You really are a piece of God, and the minute you just hit that app, miracles happen. I'm seeing miracles. This lock down, you get in big arguments with who's ever around, your wife.
Curt Dalton:
Shelby.
Tommy Chong:
Yeah, Shelby. The arguments in the beginning started getting really intense, then something said, "Hey, come on dude. You know how to do this, think of God." So quietly, just by myself, changed my thought, change whatever their argument or whatever it was. I put it out of my mind and I think of God. Well, miracles happen. You don't have to be face to face, you do it on your own and when I say miracles, I'm talking about the whole vibe changes. That's how powerful that word is.
Tommy Chong:
That's why in the Bible, they say, "The word of God is sacred." Because it is sacred because it has that power. Now if you use it as a swear word or a cuss word or something like that, it loses that power, because you're not really thinking of God. But if you do think of God, the power that that thought has, just takes care of every problem that you have. Especially if you're creating or simple thing, I lose my phone all the time and you know what I do? I say, "Okay, God, where is it?" You know what happens?
Curt Dalton:
[crosstalk 00:19:08] Shelby comes out and give it to you.
Tommy Chong:
Yeah. And you know what happens? For some reason, I go, "Oh, oh, there it is." It turns up.
Curt Dalton:
You get the thing that says, "Find my phone and it's right there." It's a miracle.
Tommy Chong:
But anyway, I give this to you because you asked. I was doing a talk at USC Film School, they had me there talking about Up in Smoke and then they wanted to know, "What was your inspiration? What inspired you?" Then I told them, I said, "Here's a little trick." I told them right now, I said, "Try it, try it now, everybody. Try it. Turn your thoughts to God." Then there was something came over that whole crowd, it was like, ahhh! It was something. Then that was like the end of the talk and the teacher that had me there, he's, "Well, I wasn't expecting that.
Curt Dalton:
If you want Philosophy 102, it's right down the hall, sir.
Tommy Chong:
Yeah. Then I walked down to catch my ride home and I had a couple follow me out. They said they were so affected by that, they just had to tell me they just had… Yeah. That's what's been going on in my life. We're talking about the dispensaries, Cheech and Chong Dispensaries. We've been trying to do that forever. All of a sudden, they just happened.
Curt Dalton:
It clicked.
Tommy Chong:
At the right time. I mean, had we done it sooner, it wouldn't have worked, but now, like you said, MedMen is going under, and we're going to probably go buy them out.
Curt Dalton:
Plenty of prime location for the dispensary. I love it.
Tommy Chong:
That's what I'm saying.
Curt Dalton:
But let me ask you, you brought up Up in Smoke and for those of us that grew up on your work and memorized it, we all have our favorite skits. Is there any skit or two skits that are your favorite or your most proud of, or you think are really funny, out of all the movies or the skits for the cassettes?
Tommy Chong:
Yeah, there's a ton of them. I think, I Wasn't Looking at His Neck, Man. That to me-
Curt Dalton:
[crosstalk 00:21:43] of course, everybody loves, the Dave's Not Here. Right? That's kind of a [crosstalk 00:21:47].
Tommy Chong:
Yeah, yeah. I mean that character, that character-
Curt Dalton:
The Corsican Brothers I still watch to this day. It's great.
Tommy Chong:
I know the Corsican Brothers too, the same things, they had this funny little tidbits in there. Yeah. Well, I got that character from a friend of mine, or a kid. I met this kid. There was a garbage strike at Vancouver back in '68, I guess. They had garbage piled all over the place and I'm walking down the main street, Gramble street and there's a kid with red hair, a hippie, with long red hair and an overcoat. He's sitting on the garbage and he looked angelic, because with the way the light hit him, it looked like an angel sitting there. So I had to talk to him.
Tommy Chong:
He was begging for money. Oh no, he said, "Hey man, do you know where I can crash tonight?" I looked at him, I said, "What's your name?" He goes "Strawberry." So I said, "Well, I have a nightclub. There's a light booth that could work." He said, "Oh, that'd be great, man." So he stayed in the light booth and he became our light operator for a bit. We used his name, Strawberry, in the bit.
Curt Dalton:
Do your characters and skits have real life reference like a Sister Mary Elephant or Basketball Jones?
Tommy Chong:
Totally.
Curt Dalton:
[crosstalk 00:23:39] basketball and Sister Mary Elephant, I'm just going to guess, came from your upbringing in Sunday school.
Tommy Chong:
Well that was Cheech. Cheech was Sister Mary Elephant. Wasn't me in Sunday School, it was Cheech in grammar school, he was raised by nuns. So they had a sister, or a substitute teacher named Sister Mary Elephant, oh yeah. Oh man. There's so many, there's so many. In fact, I got trolled, they're trolling me and they're trying to say that Joe Biden is like Uncle Pervy [crosstalk 00:24:16].
Curt Dalton:
If he legalizes cannabis, he can be Uncle Strawberry, whatever he wants. Well, thank you Tommy. One more time, they're not open yet. We don't have locations. There may be some MedMen openings, but you're saying California, Nevada, Colorado, we're going to see Cheech and Chong themed dispensary's in-
Tommy Chong:
In Massachusetts.
Curt Dalton:
Oh get out, really? That's where I am.
Tommy Chong:
Yep, yep, yep, yep.
Curt Dalton:
Well, I will be covering the opening for you at that one.
Tommy Chong:
Okay. We'll see you there then.
Curt Dalton:
All right. So if they want to invest, they can maybe hit you up on Twitter or if they're interested in hearing more about it, is that the best place?
Tommy Chong:
Yeah. Yeah. Twitter, or we'll put out a whole website.
Curt Dalton:
Okay. Sounds good then. When you get that out, just have Paris or Shelby sent it to me and I'll get it up for you.
Tommy Chong:
I'll do that, man. Take care.
Cheech and Chong Dispensaries are Coming! Tommy Chong Comes Clean on Trump, Weed, and Religion
MORE CHEECH AND CHONG, READ BELOW…
TOMMY CHONG CALLS INTO PRO CANNABIS MEDIA TO TALK WEED CULTURE!
OR..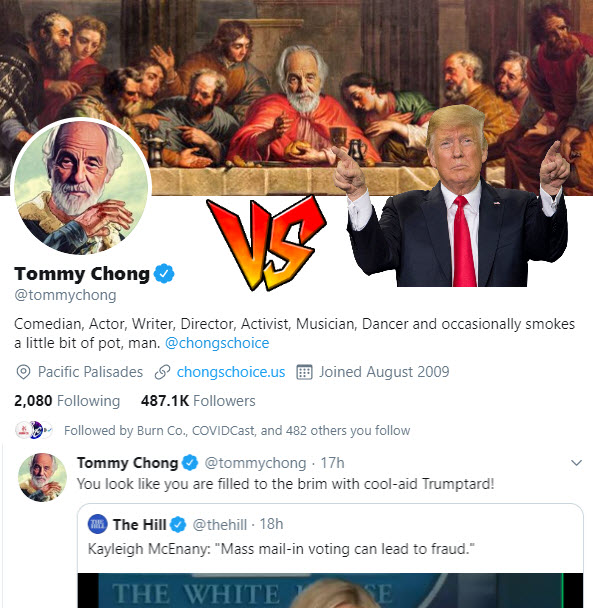 TOMMY CHONG'S POLITICALLY WILD TWITTER ACCOUNT!
OR..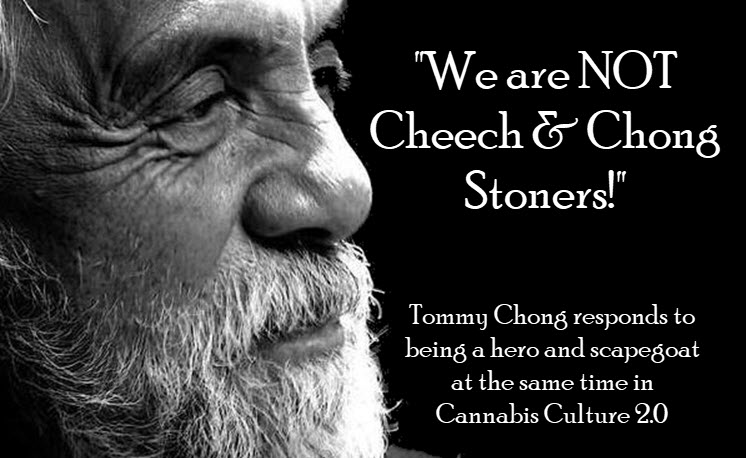 TOMMY CHONG TALKS ABOUT BEING A HERO AND SCAPEGOAT!