Best Cannabis Strains for a Cold Climate
October 30, 2020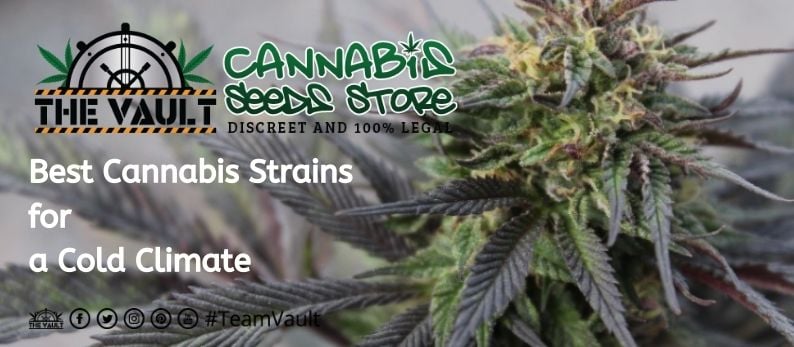 For most of us in the colder parts of the world, growing outdoors is nothing but a pipe dream. Most plants require a good deal of sun, head and a nice long summer in which to properly flower and thrive. In parts of Europe and the UK we are lucky if we have a few decent sunny days each year, never mind weather fit for a bountiful harvest. Indoor growing can be extremely difficult, especially if there just isn't space or the money to set up a full indoor growing system. This is why we are supplying a list of outdoor cold weather champions. Hardy plants that won't turn tail and die when they don't get the Mediterranean treatment. All of these strains are classics with fantastic genetics and backgrounds that simply make them capable of surviving even the chilliest and darkest environments.
This strain is famous for its power and its hardiness as well as it's incredible quality. It is perfect for surviving less than kind environments, especially colder weather. This strain is also popular for its amazing taste, a real classic for cannabis connoisseurs. This strain will flower well in all parts of the world including the colder parts of Europe and the UK. It also has a shorter flowering time which makes it perfect for shorter summers. Skunk is well known for its powerful effect and uplifting yet creative high. It is usually ready to harvest in mid-October and will grow up to 2meters in height. This strain is also a perfect balance of Indica and Sativa which gives it a delightful combination effect. A mixture of stone and high that is comforting but doesn't completely knock the proverbial block off.
Hindu Kush is another classic strain, a full Indica that has been around for decades. In its time it has won a number of Cannabis Cup awards and has actually moved the entire genetic world on in leaps and bounds. A huge amount of modern strains are based on this old favourite. This strains origins can be traced back to a mountain range between Pakistan and Afghanistan, so it is more than capable of surviving cold climates. Due to its origins and years of careful breeding, this strain is perfect for cold areas and short summers. The effect is a deliciously warm and cosy blanket of high wrapping around the body and snuggling to sleep. Perfect for anyone suffering from insomnia or other sleep issues.
This strain was born from Girl Scout Cookies, a long time favourite of the cannabis community. It is indica dominant so another great strain for anyone who needs a little help relaxing. This strain is well known for being easy to grow as well as being extremely resistant to cold. It has a short flowering time of just 10 weeks and will still provide an amazing harvest. A single plant can produce around 150g of bud and the usual THC level is around 18%. Royal Cookies has retained the sweet and earthy flavours of the Girl Scout Cookies ancestor as well as the soft, pillowy high.
This is another famous strain that isn't afraid of a little inhospitable weather. In fact, it was specifically bred to be grown in colder and darker climates. Since the original Cheese was a UK strain it understands that weather can be a little unpredictable during the summer months. Blue Cheese is known for its massive yields and strange but enchanting flavours. A mix of the original musky cheese and sweet blueberry. The stone of this strain is both physical and mental, a heavier high than some of the others on this list. Essentially Blue Cheese is best paired with a comfortable couch, a fluffy blanket and a film or series that doesn't need to be paid much attention. This strain has a flowering time of just 7 – 8 weeks and is usually ready for harvest in late September.
This strain is well known, as the name may suggest, for her impressive yields. She is also extremely hardy and will survive well outdoors in colder climates. Critical Mass is an Indica dominant strain, around 60%, with a moderate level of THC. Despite this, she is an absolute stone powerhouse and her yields speak for themselves. Critical Mass is usually the favourite of commercial growers for this exact reason. The stone is extremely strong and should not be taken lightly. Even those who have been smoking for years may struggle a little. The flowering time for this strain is a little longer, sitting at roughly 9 – 11 weeks. However, her hardiness will allow her to overcome any issues she experiences overrunning the end of the summer.
Guerilla's Gusto is another strain that was born and bred in harsh climates. Guerilla first existed in the most Northerly parts of Spain but once the Gusto genetics were added she was ready for colder climates. This strain tends to grow pretty tall plants with a short flowering time of just 7 – 9 weeks. It is easy to see the parent's genes in the long and skinny leaves. Guerilla's Gusto is almost completely Indica dominant and has a powerful stone. The aroma and flavour are delightfully sweet and spicy.
Of course, no matter how hardy a plant is there will always be dangers to growing in cold climates. Indeed, there are a number of dangers to growing outdoors in general. However, if one is careful to keep out varmints, rabbits, and keep a careful watch on the plants the results from growing outdoors will be amazing. Especially delightful is the beautiful purple hue the plants take on in colder weather. Definitely worth that little extra effort. Plus as long as the strain is right the issues with growing should be pretty minimal.
Legal Disclaimer: The competition winners will have their prizes sent to them via recorded delivery. If you win the competition but don't receive your prize, we cannot resend competition prizes, so you'll have to raise this with your local delivery service (In the UK, for example, this would be Royal Mail).
Remember: It is illegal to germinate cannabis seeds in many countries including the UK. It is our duty to inform you of this fact and to urge you to obey all of your local laws to the letter. The Vault only ever sells or sends out seeds for souvenir, collection or novelty purposes.
Make sure you never miss another Vault promo and sign up for our newsletter at http://goo.gl/Bt2Ba2