How the Cannabis Industry Can be More Eco-Friendly Going Forward
September 2, 2020
The world no longer respects industry that does not respect the planet. Well – at least the consumer-world that is [for the most part].
The cannabis industry – despite all of the good that it does – also has quite a heavy carbon-footprint and other "waste management" issues. For starters – all indoor operations require a lot of energy and water. While implementing solar technology and on-site water recycling – there are more things that the industry could do to reduce their carbon footprint and place less strain on the environment.
This was the topic of discussion for Colorado's Marijuana Enforcement – specifically talking about waste disposal. This is often an overlooked part of the cannabis industry rarely reported on. This is because when growing cannabis – leftovers could potentially get you high.
People can make bubble hash from trim or sugar leaf and this makes the disposal of cannabis far more complicated as you can see the black market potential for this. In Colorado – every marijuana facility must record and track every part of their business – including waste disposal. They can't simply go and toss a bag of unused flower in an alley way. Think about the children!
In Colorado – to combat the "unwanted leakage of bud into the black market" – they are required to dispose it with a 50:50 marijuana to waste ratio, which may include things like sawdust, compost, coffee grounds, bleach, sand, glass, shredded paper, etc.
While initially this may have sounded like a good solution – the problem comes with scalability. According to the Department of Public Health and Environment says that this "solution" not only stops any possibility of composting the plant matter – but also doubles the trash that ends up in City Landfills.
"In 2019, CDPHE data notes, 3,650 tons (7.3 million pounds) of marijuana plant waste was produced by the state's pot industry, with that number increased to 7,300 tons in order to meet the 50/50 requirement." – Source
The state does have some recycling programs in place – but they found that the majority of the industry players weren't taking advantage of it. Thus – on August 11, 2020 they held a stakeholder meeting of pot-industry members, city officials and so forth.
"How can we dispose of plant waste in a more sustainable way while maintaining the original MED intent of safety and compliance without criminal-market diversion?" CDPHE small-business consultant Kaitlin Urso asked during the meeting. "I know that there are a lot of security requirements already in place at these facilities, and dumpsters are required to be locked. But could we come up with more secure protocols, pick-ups and manifests to ensure compliance and security?"
This is the golden question – how do you reduce the negative impact, while maintaining security protocols in place?
Urso is suggesting that the waste-marijuana ratio be reduced in order to make the waste more 'reusable'. According to Urso – removing the 50/50 rule could reduce up to 122 metric tons of Carbon from Colorado's air.
Additionally – cannabis industry leaders also chimed in saying that they would have no problem disposing of the waste in a safe and secure manner. "Something like being on camera, in a locked container — I think that's probably sufficient." Said Brandon Rhea, production compliance officer for Natural Roots dispensaries.
Other industry figures all agreed that composting is the best route to being more sustainable and that the fear of non-compliance is the main motivator for the 50/50 rule.
However – there is also an issue of packaging seeing that state regulators are asking for more strict packaging protocols which generate more plastic and paper waste. Only a few cannabis establishments have recycling options available – and this is also a missed opportunity for the industry.
In fact – by being able to work in an effective recycling plan from the very beginning could help start cultivating the culture of recycling within the industry.
"Sometimes [there are] different layers of packaging that come into play because of the regulatory requirements," explained Ben Gelt, chair of the Cannabis Certification Council and Cannabis Sustainability Symposium. "Even just reducing some of the labeling would open up some pathways here."
The cannabis industry is in a unique position where they could become the leaders on how industry can both be profitable and sustainable at the same time. Additionally – for consumers, ethically buying products goes a long way in how they feel about a particular brand.
Thus – for cannabis companies trying to make noise within the industry – upping your sustainability game will definitely garner some attention. The truth of the matter is that there are currently many missed opportunities for reducing the impact the industry has on nature. Fortunately – places like Colorado has had their cannabis experiment running for enough time to start addressing these issues with greater detail.
Let's hope these trends spread to different sectors within the international cannabis marketplace. After all – cannabis is associated with wellness…so let's keep the environment present in that association.
CANANBIS ECO-FRIENDLY IDEAS, READ MORE…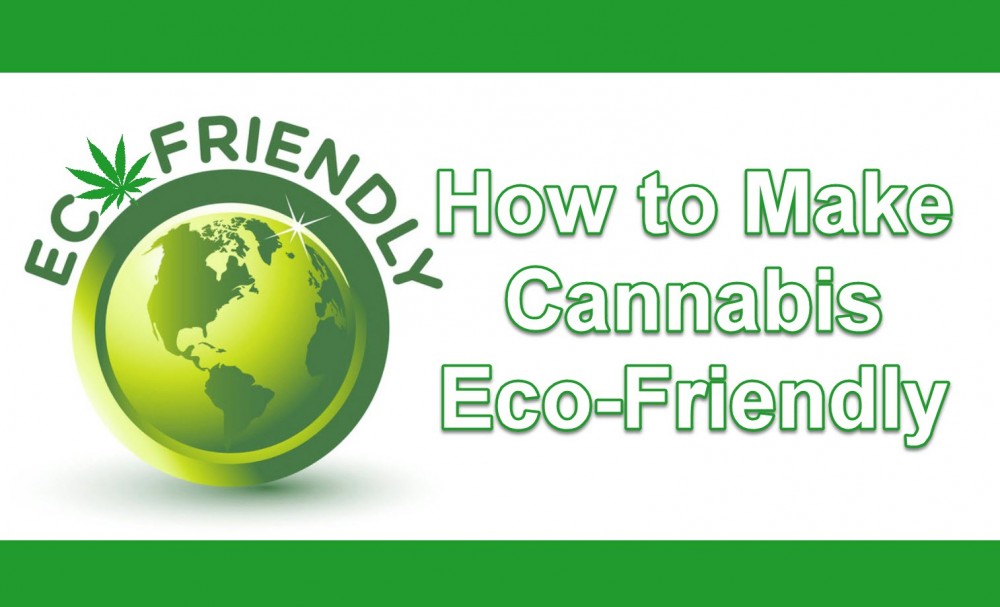 ECO-FRIENDLY CANNABIS PLANS FOR THE POT INDUSTRY!
OR..
HOW TO GROW SUSTAINABLE CANNABIS, ECO TIME! READ THIS!