Gary Eff Cannabiz Marketer Re-Joins The Vault
August 6, 2020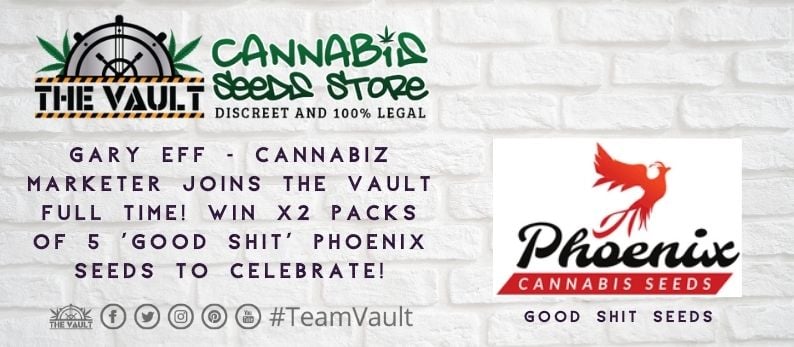 We are totally buzzing at The Vault to be able to announce the return of Gary Eff to the team!
Back in 2017, Gary Eff, the UK based legal Cannabis Marketer joined The Vault on a full-time basis. Gary gained his online marketing and social media experience over a 12 year spell with various agencies and organisations before making the move into the wonderful yet complex world of Cannabis (seeds).
Since dipping his toe in the new, emerging and exciting Cannabis industry he's not looked back and since has written over a hundred blogs and ran numerous promos and competitions to help keep the Team Vault community happy.
Around a year ago Gary had taken on some freelance and contract work still within the Cannabis world and still worked closely with the Vault during that time, providing you guys with the great content you've become accustomed to and also keeping you guys and gals with a smile on your face through his Cannabis-related memes and jokes.
After this spell, we are super stoked to announce that Gary has decided to rejoin The Vault on a full-time basis and get back involved in sharing the Vault's story with the world and showing you the most attractive Cannabis Seed products on the market.
Gary firmly believes in Cannabis as a medicinal product and not only that, he thinks we need a mature approach to legalising the plant for recreational purposes too.
Overall, this is great news for the #TeamVault community as it means Gary will be posting, sharing and engaging with you on an almost daily basis.
The key social media channels that we are on are and where you will find Gary at work are:
Vault Cannabis Seeds Facebook Page
Vault Cannabis Seeds Instagram Page
Vault Cannabis Seeds Twitter Page
Vault Cannabis Seeds Pinterest Page
Drop in on any channel and welcome Gary back to #TeamVault
As part of Gary (re) joining, and in keeping with The Vault tradition, we're also running a free cannabis seeds competition. Like a Phoenix rising from the flames its only fitting we give some Phoenix seeds away to celebrate his return.
All you need to do to enter is write the hashtag #TEAMVAULT within the comments section of the blog below, and give Gary a good old Team Vault welcome back.
Gary will choose two winners using random number generator who will win a pack of 5 seeds 'Good Shit' from Phoenix seeds. Remember to tell your friends by tagging them on social media too.
Promo is live as of now and will close at midnight UK Time on Thursday 20th August with the two winners being announced the following day.
More about Good Shit & Phoenix Seeds (as if you didn't know already):